"It is such a secret place, the land of tears." — The Little Prince
WORKING WITH YOUR CHILD OR TEEN
The decision to bring a child for therapy is one that is usually made very carefully by parents. I want to reassure you that I have extensive experience, education, and training working with children and teens; including my former position as the Children's Grief Support Program Coordinator for Hospice of Santa Cruz County. I feel passionate about helping children and teens through their difficult times.
My office is fully equipped to support children of all ages and developmental levels. I offer a wide variety of expressive art materials, games, puppets, and sand tray therapy supplies; all designed to help facilitate your child's unique healing process in safe, fun and familiar ways.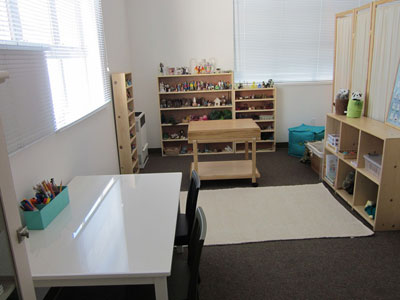 The timeline for therapy is very individual and depends on many internal and external factors. A typical course of therapy with your child or teen will change focus as it progresses. In general, first sessions will focus on building a safe and trusting relationship; middle sessions will focus on working through the identified treatment goals; and final sessions will focus on saying goodbye and honoring the work that your child or teen has completed. You are an important part of your child's therapy process and I will also consult with you, periodically, throughout this time.
Most children and teens enjoy the caring, focused, one on one, attention they receive during their time in therapy with me. While naturally apprehensive to begin with, many leave the first session happily reporting to their parent, "that was fun!" Parents tell me how much "lighter" their children seem after sessions. I have been helping children and teens for many years and feel privileged to be a part of each tender journey.